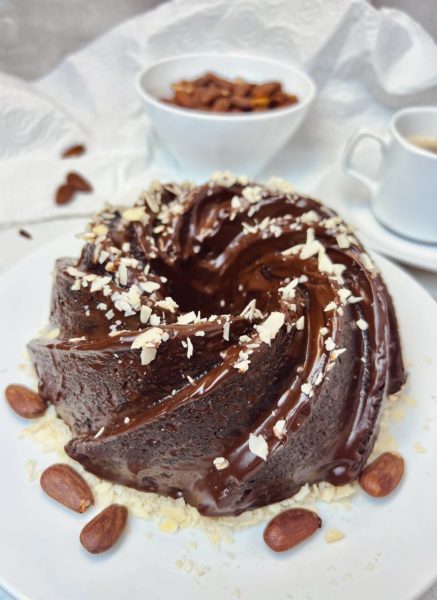 Chocolate Bundt Cake Recipe
Course: Cake
Calories per serving
370
kcal
My grandmother had an original Bundt pan – boy were we lucky! I'm happy to share with you her recipe for chocolate bundt cake…
Best Ever Chocolate Bundt Cake
Chocolate lovers know that few things in life beat the sweet and rich taste of chocolate cake. While many recipes call for a large amount of chocolate and sugar in the cake itself with a topping of heavy frosting, that classic recipe can sometimes be overwhelming. When you want the pure and rich taste of chocolate without a lot of frosting, you might find yourself looking for chocolate cake recipes that use a Bundt pan.

Jewish and German immigrants to the United States found themselves bringing the same recipes that they enjoyed in their native countries. Many used the same pans that they used at home and passed those pans down throughout their families. After a group of women decided that they wanted a new design, they wrote to the manufacturer of Nordic Ware and asked for help. The company introduced a new pan, which later became the Bundt pan and increased the popularity of this cake.
Though Bundt cakes sometimes call for a layer of frosting on top, most use a simple glaze made from sugar, water and a few other ingredients. Others call for a light dusting of powdered sugar across the top, which slightly melts on the surface of the warm cake to create its own glaze. Though you'll find many recipes for Bundt cakes and chocolate cakes, combining the two into a chocolate Bundt cake will tantalize your sweet tooth and your cravings for chocolate. Bundt cakes are also easy to make and transport, making this recipe perfect for a pot luck or a dinner with friends.
Ingredients


65 g (2.3 oz) cocoa powder (unsweetened)

257 g (9 oz) sugar

170 g (6 oz) flour

8 g (0.3 oz) baking powder

1 medium egg

100 ml (3.5 fl oz) whole milk

1 tbsp vanilla sugar

62 g (2.2 oz) melted butter

50 g (1.78 oz) vegetable oil

73 ml (2.5 fl oz) hot coffee

Chopped almonds (optional)

Frosting

100 g (3.5 oz) chocolate

50 g (1.78 oz) butter
Directions
Preheat oven to 180 C° (350 F). Grease a baking dish with butter.
In a large bowl, mix the egg, melted butter, vegetable oil, milk, coffee and sugar.
In another bowl, mix flour, cocoa, vanilla sugar, baking powder.
Now combine the contents of the two bowls together. Pour the wet ingredients into the dry ones and gently mix everything together. Don't overmix.
Pour the mixture into a baking dish and bake for about an hour at 180 C° (350 F)
For the frosting, melt the butter and chocolate in a double boiler or in the microwave.
In a small bowl, mix melted butter and chocolate. Stir until the mixture comes together. The frosting is ready.
Take the cake out of the mold and pour frosting over it. You can also add some chopped almonds on top (optionally). This Bundt is moist with rich chocolate flavor, enjoy it for breakfast with a cup of freshly brewed coffee.