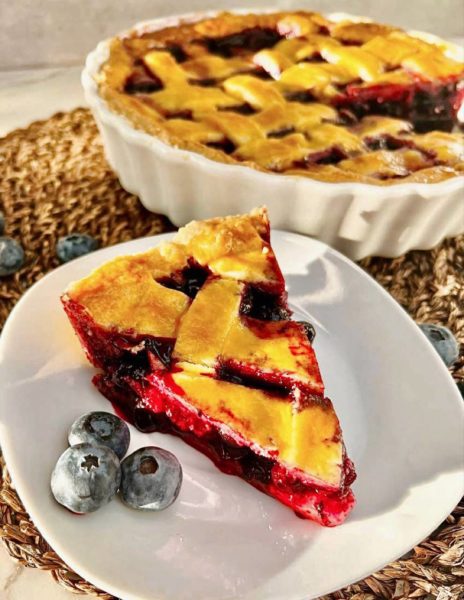 Delightful blueberry pie
Course: Deserts, Featured
Difficulty: Medium
Calories per serving
460
kcal
I love this recipe because it doesn't use rare ingredients and often you can make this pie using leftover components from other, more complicated dishes. This blueberry pie is a perfect dessert to join your coffee morning routine and brighten your plans for the day.

Blueberries are a rich source of antioxidants, which are a great deal to help our bodies. Enjoy the health benefits of this pie, just don't forget, it is a pretty high-calorie one!
In some regions of the US, particularly in Maine, blueberry pie is so beloved that it has been named the official state dessert. Maine is the world's largest producer of wild blueberries, and blueberry pie is always the star at local fairs and festivals throughout the state.
Ingredients


Dough

300 g (11 oz) white flour

70 g (2.5 oz) sugar

230 g (8 oz) butter

28 g (1 oz) cognac or cold water

Filling

30 g (4 tsp) corn starch

500 g (1 lb) blueberries (frozen or fresh)

30 g (3 tablespoons) lemon juice

3 g (1 tsp) lemon zest

100 g (3.5 oz) sugar
Directions
Mix butter and flour using blender
Add cognac and continue mixing until crumbs are formed
Add sugar and a pinch of salt. Knead the dough, making 2 balls, one being bigger than other. Leave them to rest in the refrigerator overnight (or for 1 hour if you have limited time)
In a large bowl, combine blueberries, sugar, starch, lemon juice and zest
Remove the dough from the refrigerator and let it rest for about 15 minutes. Take the bigger ball and form the bottom layer of the pie from it
Add the filling, distributing it evenly over the shape of the pie
Roll out a smaller ball, it is needed for the top of the pie. Cut it into thin strips.
Form the top layer from the stripes. You can also optionally coat the top layer with egg yolk to give the cake a nice golden color.
Bake the cake for about 45-50 minutes at 180 degrees С° (380 F)
Cool the cake to room temperature, cut into portions and serve!