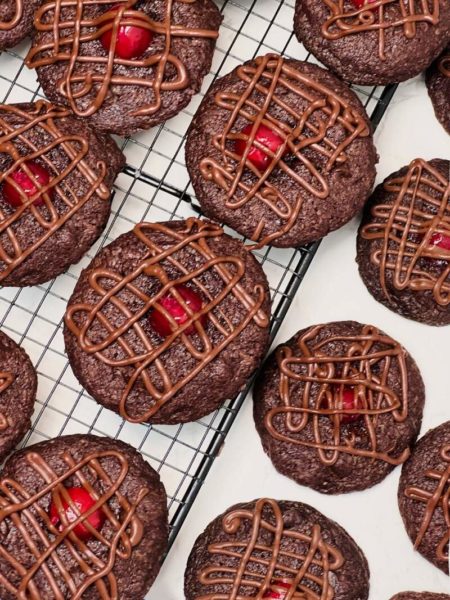 Double Chocolate Cherry Cookies
Course: Cookie, Deserts, Featured
Calories per serving
168
kcal
Welcome to the world of divine, chewy goodness – the Double Chocolate Cherry Cookies, a delightful treat that's not just a feast for the eyes but also a relatively moderate calorie indulgence. Each luscious cookie packs around 170 calories, making them a tempting, yet not overly guilt-inducing, snack for your sweet tooth. With a touch of aesthetic charm, these cookies aren't just delightful to savor but aesthetically pleasant to behold.

The historical roots of these cookies aren't precisely documented, but the fusion of chocolate and cherries in desserts has a rich legacy in European confectionary. The classic pairing might date back centuries, possibly inspired by the black forest cake originating from Germany. This delectable combination likely evolved over time, eventually giving birth to various chocolate-cherry delights like these cookies.
These cookies are like a symphony of textures and flavors – the rich cocoa blended into the dough, the burst of sweetness from the maraschino cherries, and the creamy, decadent ganache crowning each cookie. Imagine it as a sweet, velvety ballet on your taste buds, the chocolate flavors harmonizing with the slight tartness of the cherries, creating a beautiful taste balance.
The preparation is a joyful experience. The dough is a chocolate lover's dream, with the cocoa and chocolate chips blending into a heavenly mixture. The dough is then formed into delightful balls, cherries placed at their center, and chilled to perfection. After a cozy stint in the oven, these delectable creations emerge, ready to be adorned with a chocolate ganache. These cookies not only complement a cup of coffee or tea but also store remarkably well in the refrigerator, preserving their luscious qualities for a fairly long time. An ideal homemade delight for any occasion or as a daily treat to satisfy your dessert cravings.
Ingredients


1 cup all-purpose flour (120 g – 4.3 oz)

⅓ cup unsweetened cocoa powder (33 g – 1.2 oz)

½ teaspoon baking powder

½ teaspoon salt

½ cup unsalted butter softened, (113 g – 4 oz)

½ cup brown sugar (110 g – 3.9 oz)

⅓ cup white sugar (66 g – 2.35 oz)

1 large egg

2 teaspoons vanilla extract

½ cup milk chocolate chips (100 g – 3.5 oz)

About 20 Maraschino cherries (90 g – 3.2 oz)

100 g milk (3.4 fl oz) chocolate for topping

1 tbs butter for topping (35 g – 1.25 oz)
Directions
In a large bowl, mix butter, vanilla extract, brown and white sugar and mix everything well.
Add the egg to the butter. The butter should be at room temperature, otherwise it will start to clump. Mix everything for about 3-4 minutes with a mixer until smooth.
Take another large bowl and combine all the dry ingredients (cocoa, flour and baking powder). It is advised to use whisk to remove any lumps. For best results, sift the flour and cocoa mixture through a sieve.
Combine wet and dry mixtures.
Now add the chocolate chips to the bowl and stir. Place the dough in the freezer for 10-15 minutes.
Form the dough into balls of equal size and press a hole in the center of each with your finger. Insert a cherry into each cookie, then place them in the refrigerator for 30 minutes or in the freezer for 15, this will help the cookies rise better. While the cookies are cooling, preheat the oven to 180 degrees C (350 F).
Remove the cookies from the refrigerator and place on parchment paper, keeping a distance between them of about 3-4 cm (1 inch), keeping in mind the cookies will increase in diameter. Bake for about 20-25 minutes at 180 degrees C (350 F).
Cool cookies on a wire rack.

Meanwhile, let's make the Ganache (topping). Melt the chocolate and butter in the microwave or on a water bath.
Mix chocolate and butter together until combined.

Top the cooled cookies with Ganache.