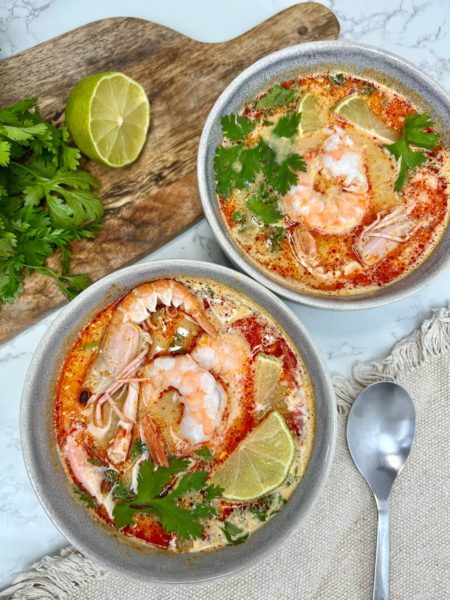 Exotic, but unbelievably tasty Asian Tom Yum Soup
Course: Featured, Seafood, Soup
Cuisine: Thai
Calories per serving
234
kcal
The great tragedy about cooking traditional Asian food is that it is usually easy to cook, it's absolutely delicious, but on the other hand, those specific ingredients are not that easy to find, especially if you're living in a small town somewhere far from Asia.

I was absolutely exited to cook this soup, since it taste is just something else! I feel like I went to a fancy high-level Asian restaurant while eating this dish, and the best part – I did it! I think my husband loved it even more, he just won't say it. You know how men are! 🤣 Anyway, the golden nugget of this soup is the wonderful combination of spicy-sour taste and tender shrimp meat. This mix of flavors just makes your taste buds go crazy and ask for more and more of this traditional Thai soup. Don't forget that Spicy food has actual health benefits such as increased metabolism, improved digestion, heart health and many more. So, this dish is a wonder, I'm just wishing you luck finding those specific ingredients such as Tom Yum paste and Thai fish sauce. Because this is so much worth it!
Ingredients


30 ml (1 fl oz) Thai fish sauce

100 g – 3.5 oz (3-4 pcs) champions

60 g (2 oz) tom yum paste

123 g (4.5 oz) cherry tomatoes

1 liter (33 fl oz) fish broth

250 ml (8.5 fl oz) coconut milk

100 g (3.5 oz) onion

20 g (0.7 fl oz) lime juice

15 g (0.5 oz) cilantro

100 g (3.5 oz) bell pepper

25 g (1 fl oz) coconut oil

311 g (11 oz) shrimp
Directions
Chop the onion, mushrooms, cherry tomatoes and bell pepper. Set aside.
Pour the fish broth into the saucepan and boil the shrimp in it for about 5 minutes.
Remove the shrimp from the saucepan and peel them, also remove the intestine (devein). For convenience, you can leave the end of their tails unpeeled. This will make it easier pick them from the soup. Leave the broth in the saucepan, we will need it later.
Saute the vegetables in coconut oil for about 3 minutes until they are soft.
Then add the fried vegetables to the broth where the shrimp were previously cooked. Boil the mixture for about 5 minutes.
Now add coconut milk, tom yam paste, fish sauce, shrimp and lime juice to the saucepan. Boil for about 2-3 minutes.
Serve with chopped cilantro on top. You can also garnish the soup with lime wedges. Bon appetit!