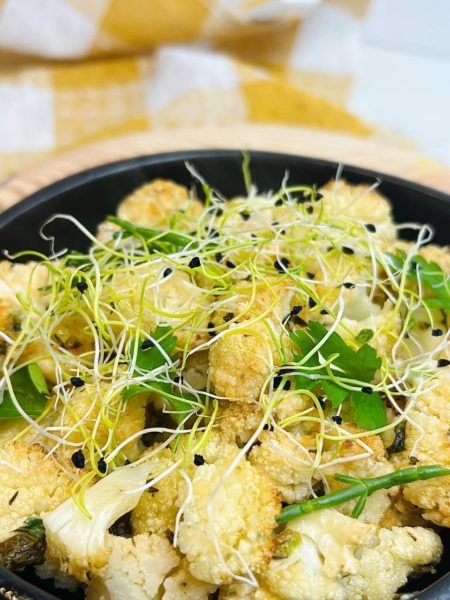 Roasted Cauliflower Recipe
Course: Vegetarian
The herbs and Parmesan really embolden the flavor of the cauliflower – roast them together and the results are magnificent!
Cauliflower is certainly not the most glamorous side dish, and unless you really love this cruciferous vegetable, you probably won't want to eat it raw.

Though it is certainly nutritious, parents can have a difficult time making their children eat it, and they may not even like it themselves. Fortunately, there are a number of recipes that you can use to make cauliflower taste delicious. It may soon be your new favorite side dish.
Cauliflower is extremely nutritious. According to the U.S. Food and Drug Administration, just 1 cup of cooked cauliflower brings in 73 percent of your recommended vitamin C. It also brings 14 percent of the recommended amount of folate and 12 percent of your recommended dosage of vitamin B6. This is all excellent and why cauliflower is considered one of the most healthful foods.
There are also studies that show cauliflower has antioxidant, anti-inflammatory and cardiovascular benefits. It has also been shown to have a very positive effect on the digestive system. Cauliflower can decrease the chance of stroke and even some types of cancer. Of course, you and your family will only experience these health benefits if you actually eat cauliflower, so it is important to find a cauliflower recipe the whole family will enjoy.
Many of the most popular cauliflower recipes are unhealthy due to the ingredients included. As tempting as it might be to smother cauliflower in cheese sauce, fry it or dip it in ranch dressing, there are other delightful ways to prepare it. The following recipe is one that is very healthful and quite tasty thanks to the roasted preparation and the herbs used to enhance the flavor. We hope you enjoy this roasted cauliflower recipe!
Ingredients


2 heads of cauliflower

1 1/2 tablespoons of olive oil

1 tablespoon of fresh parsley

2 teaspoons of fresh tarragon

2 teaspoons of fresh thyme

3 cloves of minced garlic

1/4 cup of grated Parmesan

2 tablespoons of lemon juice, fresh

1/2 teaspoon of salt

1/4 teaspoon of pepper
Directions
Preheat your oven to 200 C° (450 degrees F). Remove cauliflower florets from the heads and place them in a large roasting pan. Sprinkle with olive oil and toss until coated.
Mix Parmesan cheese, lemon, salt and pepper in a bowl. Coat each cauliflower floret with this mixture.
Bake the cauliflower for 20 minutes, stirring every five, then remove from the oven. Sprinkle the cauliflower with the thyme, tarragon, garlic and parsley. Cook an additional five minutes.
Serve the cauliflower hot with your favorite main dish.