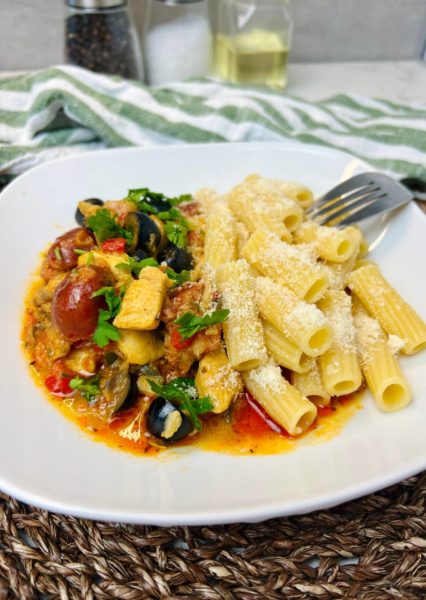 Chicken Riggies Recipe
Course: Chicken
Cuisine: Italian
Difficulty: Medium
Calories (per serving)
550
kcal
This recipe comes from my cousin who lives in Utica, NY – enjoy her chicken riggies!
Utica, N.Y., is the birthplace of a chicken pasta recipe that is delicious and easy to make. Chicken riggies can be created in a few variations, but the main ingredients for the dish include chicken, rigatoni, and sweet or hot peppers that are simmered in a tomato sauce with cream and various spices. The recipe is so popular that a contest was started in Utica to discover which restaurant made the tastiest version. The Riggiefest was first held in 2005 in the Utica Memorial Auditorium and held annually after that.

While you could plan a trip to New York to sample this dish, it is probably easier to create this chicken pasta recipe at home and see if it tantalizes your taste buds. It is enjoyable, tasty and made with ingredients that should place a smile on your face and your dinner guests too.
While this recipe uses San Marzano tomatoes, a "secret" ingredient for many professional chefs, you can use any brand of tomatoes. San Marzano tomatoes are often worked into homemade sauce recipes and are known for their rich, sweet and unique flavor. In this chicken pasta recipe, their sweetness is an excellent accompaniment to the peppers and adds a contrast and balance that goes well with rigatoni.
Ingredients


2 tablespoons extra virgin olive oil

1 large onion, diced

1 cup mushrooms, sliced

salt and pepper to taste

4 ounces hot Italian sausage

2 boneless chicken breast, chopped

1/2 cup dry Marsala wine

500 g (1 lb) tomatoes, crushed

1 cup chicken stock

2/3 cup heavy cream

1 1/2 cups chopped sweet peppers

1/2 cup pitted black olives

4 cloves garlic

1 tablespoon dried parsley

1 pound rigatoni pasta

1/2 cup Parmesan cheese

Jalapeno peppers to taste
Directions
Fry the onion and mushrooms in olive oil for 4 minutes
Add sausages, sauté for 3 more minutes
Add chicken, fry until it turns golden
Add tomatoes, peppers, wine, chicken broth, cream, jalapenos, salt, pepper, garlic, sauté until thick
Add olives and dried parsley, sauté for about 5 minutes
Cook rigatoni 10 minutes or until it becomes al dente. Drain rigatoni and rinse with cold water. Add sauce and Parmesan cheese to rigatoni. Stir and serve with crusty bread.
The spice factor for this chicken pasta recipe can be increased by adding jalapeno or other types of hot peppers. Either way, it is sure to please food lovers who appreciate Italian cuisine.