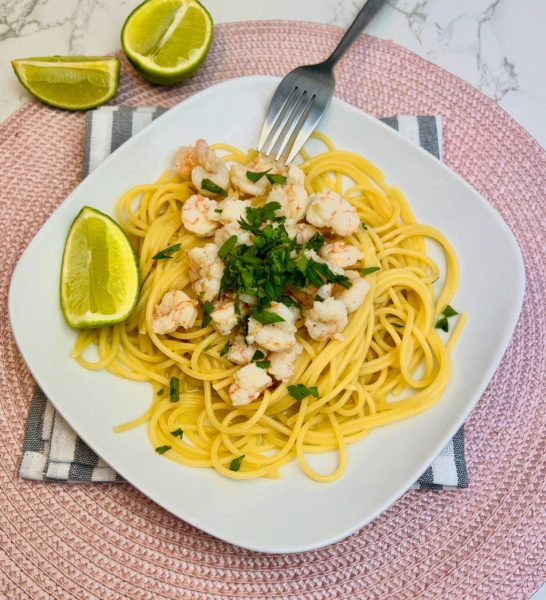 Classic Shrimp Scampi Recipe
Course: Seafood
Difficulty: Easy
Calories per serving (without pasta)
100
kcal
Garlic, butter…ok, MORE garlic and butter, a little lemon, some chopped parsley…nom nom! Enjoy this classic seafood recipe!
The word scampi can mean a variety of things in different countries and cultures. For example, in the UK, it is common for shrimp to be deep-fried in batter, but in Italy, they are typically sautéed in a garlic and butter mixture. As Italian immigrants came to America, many different variations of the shrimp scampi dish were born, giving us the classic shrimp scampi recipe that we have come to know and love today.

This shrimp scampi dish cooks quickly and is the perfect meal to prepare when you're in a rush and have a limited amount of ingredients to choose from, as most of what is included in this recipe are things that are commonly found in your pantry or fridge. The overall taste of the shrimp scampi will depend on the quality of the shrimp. While cooked, peeled and de-veined shrimp can be used, you will get the freshest taste out of this dish by purchasing shrimp with their shells on and peeling them yourself.
Shrimp scampi can be served over a number of different sides such as rice, linguine or mashed potatoes. You can also serve the shrimp alone for a lighter dish option. If you have a household full of seafood lovers, be sure to try this shrimp scampi recipe to bring the fresh taste of the sea into your home.
Ingredients


1 1/4 Lb. of large shrimp, peeled and de-veined

1/2 Cup white wine

1/2 Tsp. salt

1/2 Tsp. pepper

2 Tbsp. olive oil

6 Tbsp. butter

1 Tbsp. lemon juice

3 garlic cloves

2 Tbsp. parsley
Directions
Prepare your ingredients by picking the parsley leaves from the stem and roughly chopping them. Peel and mince the 3 garlic cloves. Wash and dry your shrimp. If they are not already peeled, simply peel off the shells before cooking. Also be sure to devein shrimps
In a medium bowl, add the minced garlic, salt, pepper and shrimp. Mix together well. You may choose to cover and refrigerate for several hours to allow the shrimp to marinate well in the mixture.
When ready, remove the shrimp mixture from the fridge and heat oil in a large non-stick skillet over medium high heat until hot. Once the oil has started to simmer, add the shrimp to the pan and sauté for about 2 minutes or until the shrimp has turned pink.
Remove the shrimp from the pan once they have finished cooking. Reduce the heat slightly and add in 1/2 cup of your favorite white wine. Cook for about 2 minutes and add in 6 tablespoons of butter, mixing well. Once the butter has melted and has mixed thoroughly with the wine, place the shrimp back into the pan and spoon liquid over them. Add lemon juice and cook for 1 minute.
Place your shrimp scampi on a serving dish or serve over linguine. Top with parsley for a complete, delicious meal.