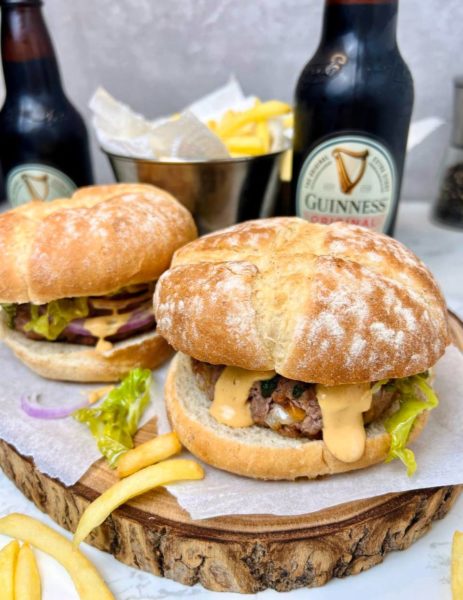 Dominican Chimichurri Burgers
Course: Featured, Lunch
Difficulty: Easy
Calories per serving
550
kcal
The recipe is a popular street food in the Dominican Republic, you can buy this burger in food trucks or restaurants throughout the country. Chimichurri sauce (originated from Argentina) is what makes this recipe special – it is a traditional condiment in many Latin American countries.

It was interesting to learn that these burgers are often accompanied by so-called tostones which are fried plantains, sliced and flattened. When visiting Dominicans, you can often see street vendors frying patties and tostones on the same portable grill
Ingredients


Chopped cabbage 1 cup

1 tomato

Half a red onion

Half a white onion

Half a red bell pepper

2 garlic cloves minced

Chopped parsley 1 tbsp

Ketchup 1 tbsp

Mustard 1 tbsp

Mayonnaise 1 tbsp

Ground beef 450 g (1 lb)

Worcestershire sauce 2 tbsp

Wine vinegar 2 tbsp

Soy sauce 2 tbsp

Burger buns
Directions
Finely chop white onion and red bell pepper. Set aside.
Cut red onions and tomatoes into ring pieces.
In a large bowl, mix the minced meat, white onion, bell pepper, parsley, garlic, Worcestershire sauce, soy sauce, salt and pepper to taste.
Form 4 burger patties
Fry them in olive oil on both sides for 10 minutes over medium heat.
Mix mustard, mayonnaise and ketchup. Our sauce is ready. Set aside.
Mix chopped cabbage with wine vinegar, a pinch of salt and saute for 3 minutes in a small amount of water
Place the burger buns in the oven for 10 minutes. They should warm up and be slightly crispy. Put a patty on a bun, top with a tomato and onion, then cabbage and pour the sauce over everything. Place a bun on top.
These burgers are perfectly complemented by french fries and a bottle of good beer.