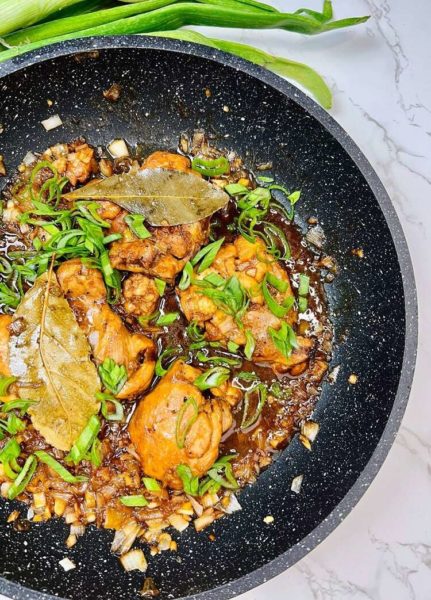 Filipino Chicken Adobo Recipe
Course: Chicken, Featured
Cuisine: Filipino
Difficulty: Easy
Calories (per serving)
220
kcal
I truly believe humanity made a whole new step in food history when we invented marinating meat. A plain simple chicken (or any other meat) will gain so much more taste and tenderness by simply soaking in vinegar, soy sauce, and spices overnight.

I've decided to try this Filipino recipe after seeing how easy it is to make. Sure, you have to reserve time for marinating, but time never stops me from preparing food, especially as exotic and delicious as this one. Adobo chicken is a Filipino dish, that has its roots in Spanish colonization times. It is believed that originally it was a direct copycat of traditional Spanish dish, but over time it has evolved to incorporate local Asian ingredients and flavors. This dish is so iconic, they actually have a special National Date to honor it! On December 5th, people come together to share different recipes, techniques and just celebrate their traditional cuisine.
Let me tell you, Adobo chicken goes great garnished with green onion. I'd prepared it for dinner and hoped to finish it in the morning, but we ate it all! On the one hand – this was a bit sad! No "free" breakfast of us. But also I was happy – when food gets eaten so fast, it certainly means the chef's success!
Ingredients


Skinless, boneless Chicken thighs 350 g (12.5 oz)

1 large chopped Onion

2 tbsp of grated ginger

2 tbsp of chopped garlic

1 tbsp brown sugar

Soy sauce 50 ml (1.7 fl oz)

White vinegar 2 tbsp

A pinch of ground black pepper

2 bay leaves

Green onion for garnishing

2-3 tbsp of vegetable oil for frying
Directions
In a large bowl, combine soy sauce, vinegar and black pepper. Then, add chicken and leave to marinate for about an hour, if you have time, you can leave the chicken to marinate overnight, to make it even more tender.
Remove the chicken from the marinade (don't throw away the marinade!) Heat a frying pan with vegetable oil, and grill the chicken for two minutes on each side. It should be slightly undercooked.
Remove the chicken from the skillet. And add onion, garlic and ginger. Saute for about 5 minutes.
Then put the chicken back in, pour in the rest of the marinade, add sugar and 2 bay leaves. Saute for about 10 minutes, 5 minutes per side over medium heat.
Remove chicken from heat, sprinkle with green onions and serve.
This chicken goes great with Basmati rice. Be sure to try this dish, your family will love it! 😋