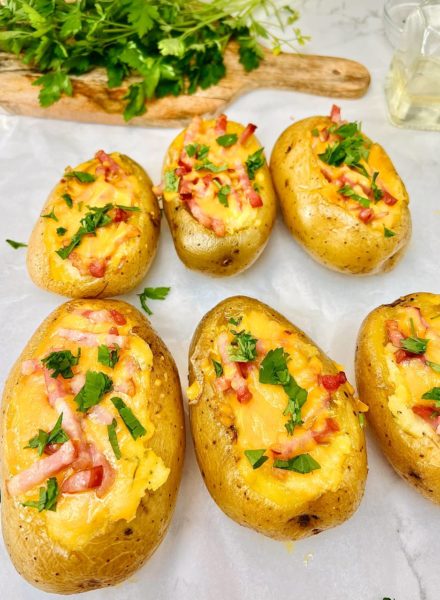 Loaded Twice-baked Potatoes
Course: Potato
Difficulty: Easy
Calories per serving
250
kcal
Twice-baked and worth the wait! Enjoy these cheesy potatoes!
Are you a meat and potatoes kind of person? Or even just a potato lover in general? If so, then you'll be absolutely floored by this incredible side dish. Potatoes are a favorite food around the world because their preparation possibilities are endless. You can have your potatoes fried, mashed, scalloped or baked, and each one of these options opens up windows of opportunity to add a little flare and elevate your potato experience to the next level.

Potatoes are great for accompanying almost any meal, and there are a few different ways that you can prepare them. Depending on the size of the potato, the cook time can vary to get them just right and cooked all the way through. The preparation for potatoes can be done by boiling or baking them, or you can soften them by putting them in the microwave if you don't have a conventional oven. The recommended cook time for each potato placed in a microwave is about three minutes, but this can vary if the size of the potato is larger.
When baking potatoes, the best way to do so is using a conventional oven. This baked potato recipe has a cooking time of almost two hours, but these twice-baked potatoes will be worth the wait. They're loaded with all the fixings and make a delightful dish that can be served to the whole family.
Ingredients


6 baking potatoes

3 tablespoons canola oil

2 sticks salted butter

1 cup bacon bits

1 cup sour cream

1 cup Cheddar or Jack cheese (or a mix of both), plus more for topping

1/2 cup whole milk

2 teaspoons seasoned salt

green onions, chopped

Freshly ground black pepper
Directions
In preparation for cooking, wash the potatoes under a faucet to clean, and preheat the oven to 200 C° (400 degrees F). Rub the potatoes with canola oil and place on a baking sheet before putting them into the oven. Cook the potatoes for one hour, and make sure that they're cooked thoroughly.
While the potatoes are in the oven, you can begin preparing the filling. You'll need a mixing bowl to place the ingredients. Slice the butter into pats and add it, the green onion and sour cream into the mixing bowl.
Once the potatoes are cooked through, remove them from the oven and cut each potato in half lengthwise. Then, take a spoon and scrape out the insides of the potato halves and add to the mixing bowl. Be sure to leave some of the potato insides intact as support.
Mash the potatoes in the mixing bowl with butter, green onion and sour cream. When this is complete, add the mixture back into the hallowed out potato skins.
Add bacon and cheese and place them back in the oven at a lowered temperature of 175 C° (350 degrees F) for 15 to 20 minutes.
These baked potatoes filled with toppings are served as a hearty meal or side for all of your family's enjoyment